Tree Stump Removal
At Longacre Tree Surgery, we are experts in tree stump removal, which is the last stage of permanent tree extraction. After a tree has been felled there will be a ground level stump left behind. It's not necessarily a bad thing to leave in the ground, but can cause problems in the future, and more often than not, this is why our tree stump removal service is required.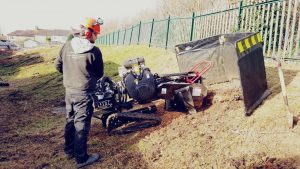 It is best to remove a stump before the following problems occur:
Hazardous – most tree stumps are obvious, however, some can be camouflaged by grass and weeds and therefore, can become tripping hazards.
Eyesores – tree stumps are not appealing to look at when weeds and grass overgrow, especially if the tree was felled to create space or reveal a picturesque view.
Disease – if a tree has been felled due to disease or infestation, disposing of the tree alone will not save the rest of your trees and plants from the same fate. To eradicate the disease, it is necessary to remove the stump and roots as well.
Suckering – new shoots grow up from the stump if it's still alive, and can be a nuisance. Completely dead stumps will not produce suckers, however, they can play host to root diseases (such as Honey fungus). It's not worth taking the risk.
Tree Stump Removal Process
At Longacre, we provide stump grinding as part of our tree stump removal service. Grinding a stump after a tree has been felled, is the quickest and most thorough method of stump removal. The grinder machine digs into the ground, 'chewing' up the trunk and roots, from 6-18 inches deep into the soil. This method doesn't just remove a tree stump, it demolishes the wood and creates and ideal composting material.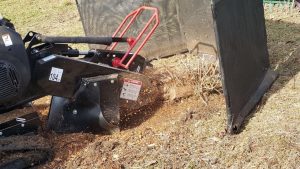 By using a stump grinder, we are offering a safe, and effective way of removing a tree stump. Before we begin the task, we also consider the location of the stump, as well as the surrounding area.
At Longacre, we always adhere to safety measures, and specialist safety considerations are taken into account. We use cat scans to check for any wires underground that lead to houses, as the machinery we use can grind up to 2 ft down, depending on the area in which the stump is situated. As for any job, we have consideration for the site itself, ensuring we leave behind no mess… unless you wish to use it for compost.
Time Saving
This method is more effective as opposed to other stump removal methods, such as, digging out by hand which is time consuming, or using chemicals with the associated environmental hazards. Another method of stump removal is using a backhoe. This involves pulling the stump out of the ground which creates a mess. It is better to grind a stump than use a backhoe, as the wood chippings can be used as compost, whereas, the stump removed by a backhoe has to be disposed of.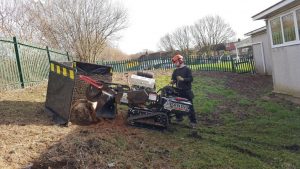 Need a stump removed? Find out more at http://longacretreesurgery.co.uk/ or give us a call on 07736 933530.